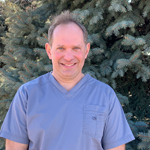 Dr. Mike Brown
Dr. Brown was raised in Clarinda, Iowa. He graduated from Iowa State University College of Veterinary Medicine in 2001. He is married to Kim Brown and has three children. He has enjoyed practicing small animal medicine and surgery for over 20 years in Lincoln.
Henry Cerny, DVM, MS, CVA, IVCA, VDP
Veterinary Dental Practitioner Certificate
Dr. Cerny earned a bachelor's degree in Animal Science at the University of Nebraska. He graduated from Kansas State University with his degree in Veterinary Medicine and went into small animal practice. A year later he was offered a position as head of the veterinary microbiology lab at the University of Nebraska Veterinary Diagnostic Laboratory. There he received advanced training in diagnostic medicine and infectious diseases. He completed a Master's degree in Veterinary and Biomedical Science and published his research in the Journal of Microbiology. He has also been a co-author of scientific veterinary publications. He received his training and certification in acupuncture (CVA) as well as advanced and topographical acupuncture training from the Chi Institute. He received his training in chiropractic from Options for Animals College of chiropractic and certification through the international veterinary chiropractic association (IVCA). Dr. Cerny has extensive and advanced training in veterinary dentistry. He is certified as a Veterinary Dental Practitioner through the International Veterinary Dental Institute (IVDI).
Dr. Cerny is passionate about many things from general medicine and surgery to advanced dentistry, chiropractic and acupuncture. His knowledge of nutritional supplements, herbals, and diets continues to help many of his patients. He follows the philosophy of William Mayo one of the founders of the Mayo Clinic who said, The best interest of the patient is the only one to consider. This requires far more advanced education than normal, but our philosophy at Yankee Hill Veterinary Hospital is to provide the best possible care. Dr. Cerny will tell you, no one person can provide the exceptional care we do, it is the entire team.
Dr. Cerny is blessed with his wife Sabrina, children Charlotte and Henry, and their Labrador Lyla. His main hobby is spending time with his kids,
family, and friends, for that is what really matters in this world. He has traveled across the globe to places such as Egypt, the Czech Republic, Ireland, and Thailand and has a great appreciation for other cultures.
In memory of his beloved pets/animal friends that have passed into the spirit world; Putter, Izi, Oscar, Heidi, Lassie, Shadow, Raisin, Copper, Brass, Ming, TC, Velvet, Cinder, MJ, Sandee. Lest we forget.
Dr. Sarah Knudsen
Dr. Sarah Knudsen grew up in the small town of Valley, Nebraska. Dr. Knudsen, her husband Greg, and their son Christian have made a home in Lincoln and enjoy the many activities that Lincoln has to offer. She loves spending time with her family and friends, reading, baking, and taking walks with her golden retriever Lady. She also cares for her guinea pig named Pearl. She attended the University of Nebraska-Lincoln and graduated in May 2008 with a Bachelor's in Veterinary Medicine and Biomedical Sciences. In May 2012 she received her Doctor of Veterinary Medicine (DVM) degree from the University of Nebraska-Lincoln & Iowa State University Professional Program in Veterinary Medicine. Her special interests include geriatric wellness, exotic medicine/husbandry (pocket pets), dermatology, and soft tissue surgery.
Dr. Anna Jones
Dr. Jones is originally from Tecumseh, Nebraska where she grew up on a farm. She attended the University of Nebraska – Lincoln and received her Bachelor's degree in Veterinary Science. In May 2019 she graduated with her DVM from the University of Nebraska – Lincoln and Iowa State University Professional Program in Veterinary Medicine. Dr. Jones spends most of her free time on the farm with her husband, Robert, and their dog, Merle.
Amy Gross
Hospital Manager
Ashlee Lawrence
Assistant Hospital Manager
Jill Nore
Licensed Veterinary Technician (LVT)
Holly Reiling
Licensed Veterinary Technician (LVT)
Nicole Shelburne
Licensed Veterinary Technician (LVT)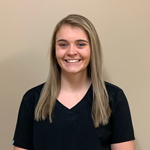 Cheyenne Jurgena
Veterinary Technician Student
Cordell Vrbka
Veterinary Assistant
Hannah Curran
Veterinary Assistant
Ashley Coenen
Veterinary Assistant
Amelia Burkinshaw
Veterinary Assistant
Olivia Kisling
Veterinary Assistant
Kortney Mulbery
Veterinary Assistant
Olivia Heggem
Veterinary Assistant
 Josie Peterson
Veterinary Assistant
Sydnie Reeves
Veterinary Assistant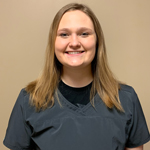 Jenna Glidden
Veterinary Assistant
Jordyn Schommer
Veterinary Assistant
Max Heuermann
Veterinary Assistant
Lauren Kernen
Veterinary Assistant
Megan Wehrbein
Veterinary Assistant
Ariel Zavala
Veterinary Assistant